A week to focus on inter faith understanding and cooperation
Inter Faith Week 2019 will take place between Sunday 10 and Sunday 17 November.
The materials and event listings on this website currently relate to Inter Faith Week 2018. These will be replaced/ removed once the final report on the 2018 Week is published.
Inter Faith Week's aims are to:
Strengthen good inter faith relations at all levels
Increase awareness of the different and distinct faith communities in the UK, in particular celebrating and building on the contribution which their members make to their neighbourhoods and to wider society
Increase understanding between people of religious and non-religious beliefs
Further information can be found on the About page and background on the History page
More information about Scottish Interfaith Week, led by Interfaith Scotland, can be found here.
Photos above
1) Julie Jones (Inter-faith Council for Wales) and Smita Oza (BAPS Swaminarayan Sanstha)
2) Members of the IFN office team
3) Dr Natubhai Shah (Jain Network) and Venerable Bogoda Seelawimala (Sri Lankan Sangha Sabha of GB)
Message from Trustees of the Inter Faith Network:

Inter faith understanding and cooperation are a vital part of living well together in our increasingly diverse United Kingdom. Inter Faith Week is an excellent time to highlight this and to widen involvement in joint social action projects, dialogue and learning. We are heartened by the number of bodies – from workplaces to faith groups, sports bodies, schools, colleges, public agencies and many others – who are planning events for this year. We hope even more will join them.


Trustees of the Inter Faith Network for the UK

In a message about the Week, Prime Minister Theresa May said:

Inter Faith Week is an excellent opportunity to celebrate the incredible diversity and richness of faith communities in Britain. It is also a chance for people of all faiths to come together and to highlight the invaluable contribution they collectively make to their neighbourhoods and to wider society.

The Rt Hon Theresa May MP, Prime Minister

Message from Minister for Faith

Inter Faith Week is a great way to recognise the amazing contributions of communities of all faiths and none from across the country. It's important that we celebrate the great efforts of those who come together and build valuable relationships to the benefit of British life.


Lord Bourne of Aberystwyth, Minister for Faith, Ministry of Housing, Communities and Local Government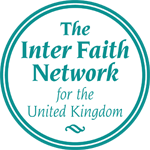 Inter Faith Week is a programme of the Inter Faith Network for the UK.
If you would like to make a donation to support this or another aspect of the Network's work, please visit the support our work page