Scottish Interfaith Week
Scottish Interfaith Week will take place from 12-19 November 2017.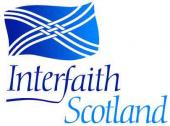 Established by Interfaith Scotland in 2004, Scottish Interfaith Week provides an opportunity for individuals, local interfaith groups and faith communities across the country to plan events that bring local people together to promote dialogue, understanding and co-operation between Scotland's diverse religious communities.
The dates of Scottish Interfaith Week 2017 are Sunday 12 - Sunday 19 November. The theme will be 'Creativity and the Arts'. The national launch event will take place on 13 November at Discovery Point in Dundee from 5.30-8.30pm.
Further information about Scottish Interfaith Week can be found at www.interfaithscotland.org/scottish-interfaith-week/. Contact Frances Hume for further details: frances@interfaithscotland.org