GROWING INTER FAITH UNDERSTANDING AND COOPERATION
Inter Faith Week 2020 will take place from Sunday 8 - Sunday 15 November.
Inter Faith Week's aims are to:
Strengthen good inter faith relations at all levels
Increase awareness of the different and distinct faith communities in the UK, in particular celebrating and building on the contribution which their members make to their neighbourhoods and to wider society
Increase understanding between people of religious and non-religious beliefs
This website contains activity ideas, including ideas for online activities this year, such as 'Inter Faith Week buddies'.
Further information can be found in press releases, on the About page and on the History page.
More information about Scottish Interfaith Week, led by Interfaith Scotland, can be found here.
Photos
North Kirklees Inter Faith Council
Gorsey Bank Primary School, Wilmslow
Board of Deputies of British Jews
OneJain, Shrimad Rajchandra Mission Dharampur, Harrow Interfaith, Harrow Council and Trees for Cities
NHS Digital
Watford Interfaith Association
Inter Faith Week...

"... showcases the
enormous amount of goodwill that
currently exists across the country
as shown by the diverse faith
organisations coming together to
celebrate achievements."

Inter Faith Week...

"... encourages
everyone, by showing how many
people, spread across the country,
are involved in inter faith activities."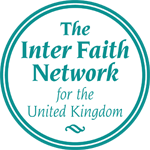 Inter Faith Week is a programme of the Inter Faith Network for the UK.
If you would like to make a donation to support this or another aspect of the Network's work, please visit the support our work page