Blog from Josephine Dumbrell, IFN Intern
An Inter Faith Week blog by Josephine Dumbrell, Intern at Inter Faith Network for the UK which leads on the Week.
Inter Faith Week 2021 was a jam-packed and exciting week, filled with a number of interesting and innovative initiatives that showed the importance of inter faith cooperation and dialogue.

As an IFN intern, I assisted on preparation for the Week: contacting organisations such as Students' Unions and museums to encourage participation in the Week; undertaking online research to find any activities that had not been registered and adding them on the Inter Faith Week website; and drafting posts to promote the Week on social media – you may have seen my regularly updated screenshots of our activities map! I feel proud to have played this important role in maintaining the Week's presence online, and to have encouraged participation in the Week by those who may not have previously considered getting involved.

I also had the opportunity to attend some of these activities myself. I am particularly interested in the role that inter faith can play in social action, and so attended four separate activities relating to this theme.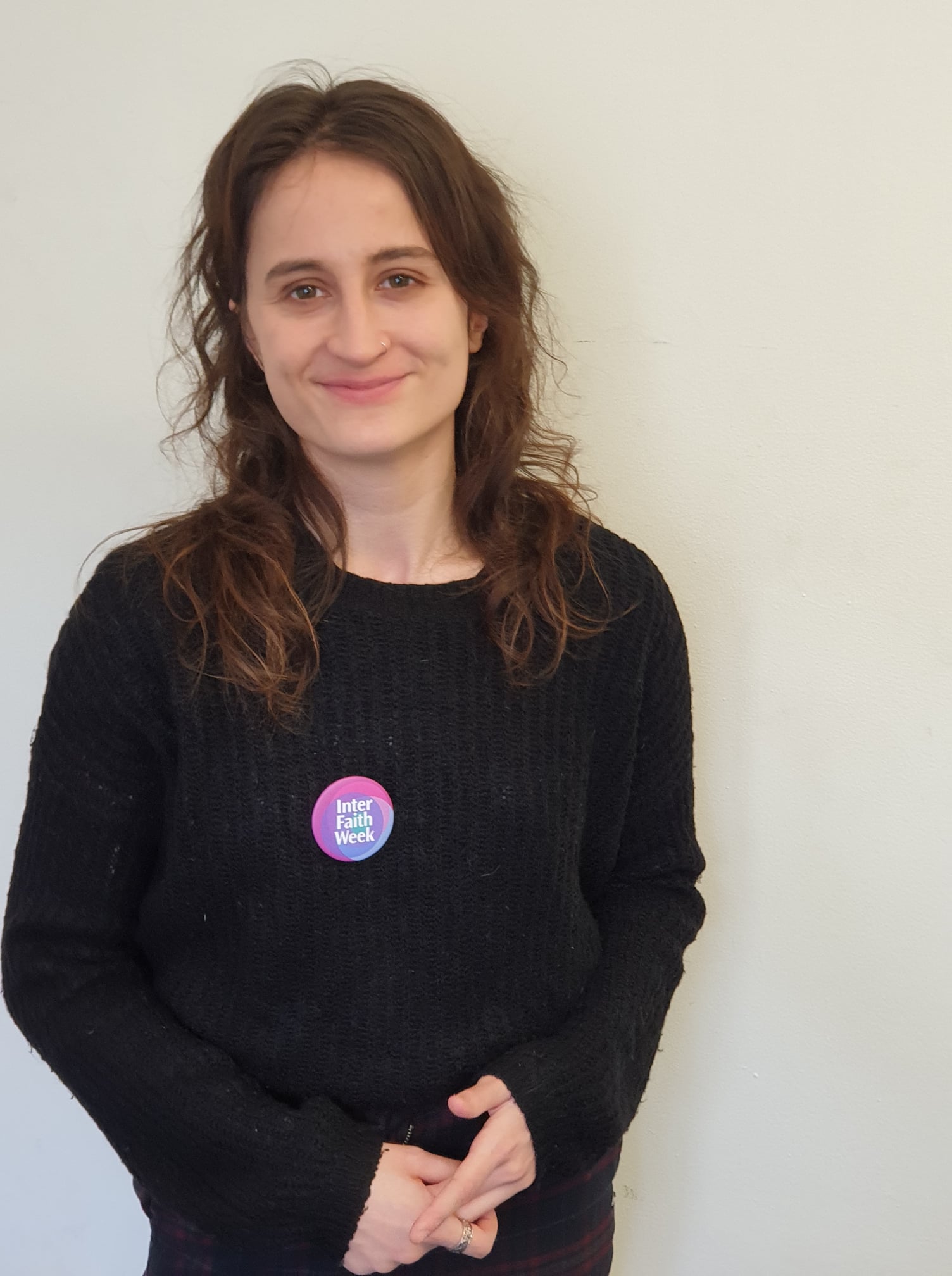 Josephine Dumbrell

CLIMATE CHANGE

Inter Faith Week 2021 took place in the wake of #COP26. Many Week activities reflected recognition of #climatechange as a timely and important issue around which faith communities can cooperate.

On Saturday I was honoured to attend Interfaith Wolverhampton's conference centred on the theme of climate change. Speakers from six different faith communities – Hindu, Muslim, Sikh, Buddhist, Jewish, and Christian – discussed their own faith's perspective on nature and the role of humankind in relation to the environment. Whilst their perspectives differed in relation to some of the broader religious ideas, a common idea that arose was the spiritual need or duty for humanity to take care of the earth. For example, Dr Asim Yusuf, who provided a Muslim perspective, talked about how caring for the Earth is a moral imperative and part and parcel of being human, whilst Christian speaker the Reverend Joe Smith highlighted the importance of protecting the environment as a means of 'loving your neighbour as yourself'.
Political and scientific perspectives were also provided courtesy of MP for Wolverhampton South East Pat McFadden, Councillor Steve Evans, and University of Wolverhampton lecturers Dr Komali Yenneti and Dr Hamid Pouran. These included discussions of climate science and climate justice, as well as reflections on how faith communities can get more involved in climate action, even if just through small changes – such as the Gurdwara changing their windows!

It was enlightening – and at moments very moving – to hear different faith reflections on the environment. It was also encouraging to see attendees recognise similarities between their faiths during the Q&A, and to understand how, despite their differences, faith communities can unite around common principles and fight for a common cause.

On Thursday, I attended the virtual launch of the 'Let Earth Breathe, Plant Trees, Restore Biodiversity' project, headed by RfP UK Women of Faith Network. The launch was a call to action for people of faith to plant trees, get involved in local conservation and restoration projects, divest from areas that contribute to or fund deforestation, and get involved in campaigns to hold governments accountable.

It was particularly interesting to hear about the role of environmentalism in different faiths. Karen Maxwell of Nisa-Nashim - Jewish Muslim Women's Network and The Board of Deputies of British Jews spoke about the faith commitment to the environment in Judaism and the festival of Tu B'Shevat; the 'New Year of the Trees'. Zarina Ahmed, climate change communicator and PhD researcher at the The University of Manchester provided some insight into the main themes that people of faith refer to as motivation for their environmentalism, such as stewardship and non-dominance of the planet. Restoration ecologist Dr Leland Werden also provided scientific insight into restoration and conservation, including how we can make practical contributions to these efforts.

In our breakout rooms I was paired with Alison Judd, the President of World Federation of Methodist and Uniting Church Women. She told me about the Eco Church project of A Rocha UK, which encourages churches to make their buildings and grounds more sustainable. The importance of inter faith and faith coalitions as vehicles for climate action was also discussed.

It was encouraging to see such a drive for faith communities to become active participants in social action, particularly in a way that centres on their faith.

VIOLENCE AGAINST WOMEN AND GIRLS

Other social issues were also the focal point of various activities throughout the Week. On Tuesday it was my privilege to attend a webinar hosted by Faiths Forum and Women's Interfaith Network on 'The Inter Faith Communities' Responsibility to Tackle Domestic Abuse' and also served to launch Faiths Against Domestic Abuse Week.

It was fascinating to hear panellists' perspectives on the importance of specialist, faith-based domestic abuse initiatives, such as the work of Jewish Women's Aid and Faith&VAWG Coalition, as well as how secular initiatives like the Domestic Abuse Commissioner and the Domestic Abuse Act 2021 can integrate faith perspectives into their work. Likewise, to hear discussion about the nature of spiritual abuse.
Panellists also signposted a number of important actions for faith communities and domestic abuse support practitioners to take going forward. These included: working within faith communities to effect cultural change; helping faith leaders to become frontline practitioners; and making sure that secular political responses to domestic violence become 'spaces for faith' that address the role of faith both in abuse itself, and in the healing process for survivors.

ASPECTS OF DIALOGUE

A number of higher education and research institutions hosted talks and lectures during the Week. On Tuesday I attended a Parkes Institute lecture by Dr Yulia Egorova with responses by Professor Brian Klug and Aiman Alzetani, exploring important questions about Muslim and Jewish identities in the UK, and how Jews and Muslims can relate to each other in dialogue settings. There was also discussion of more general questions such as how inter faith dialogue can provide opportunities to foster solidarity, particularly in the face of shared discrimination; and the importance, in dialogue, of assuming that all members of a particular tradition are the same ('essentialising').

AN AMAZING WEEK

Inter Faith Week was an eye-opening and inspiring experience. Researching the activities taking place, and attending some of them myself, provided me with a first-hand understanding of how productive inter faith can be, not only in terms of fostering understanding and helping us to embrace diversity, but also in terms of uniting people of different faiths around a common purpose and encouraging them to pursue a fairer and more just society (and world!). I am in awe of the dedication and passion that has gone into every activity, and I hope that the momentum for change continues beyond the Week!