Blog from Jo Backus, one of IFN's Trustees
Jo Backus is a Trustee of the Inter Faith Network for the UK. During Inter Faith Week she visited a discussion event held by University Hospitals Bristol NHS Foundation Trust on the theme 'Spirit'.
Inter Faith Week is a programme of the Inter Faith Network for the UK (IFN). During Inter Faith Week 2019, members of the IFN's staff team, Trustee Board and Moderators of its Faith Communities Forum visited a range of activities across the country, and we will be posting blogs and reflections from some of them.
Jo Backus is a Trustee of IFN. She visited an arts and culture event held by University Hospitals Bristol NHS Foundation Trust on the theme 'Spirit'. She says:
"I had the privilege of attending a very important inter faith event hosted by University Hospitals Bristol NHS Foundation.
Dr Anna Farthing, Arts Programme Director for the trust introduced important project work undertaken with a number of hospitals in the trust over an eighteen month period. The project highlighted a number of important issues including the fact that –whether or not the patients express a religious belief they "have a constant need to make sense of their circumstances and to find meaning in the events of life during periods of illness and hospitalisation. Spiritual care recognises the humanity, the uniqueness and the person-hood of everyone.'
There were presentations from Chaplain, Mark Read; medical doctor, Natalia Mesa; and Georgina Bolton, public arts officer from Bristol City Council and associate lecturer on University of the West of England's curating course. Each reflected on ways in which a piece of art, performances or buildings can help a person explore their feelings and experiences in the journey towards healing and can enable creative dialogue and open up new possibilities for patient care which focus on healing of the 'whole person'.
Mark Read, for example, described meeting people through his chaplaincy role who are exploring issues related to their spirit, trying to make sense of their experience and grappling with hopes and fears. Responding to this challenge includes considering and drawing from the connections between space, art, spirit and healing. This is underpinned by the view that a chaplain's role is not separate from the rest of healthcare, which necessitates understanding of how the whole person is looked after.
Examples of the above included the painting 'The Scream' by Edvard Munch, which may epitomise the feeling patients may have of 'being lost' or in chaos when in hospital;and a photograph of Uluru, a striking Australian landmark, which brought to mind the ways in which Aboriginal peoples view all beings and the land as spiritually significant and interconnected, with the environment playing an 'active part' in the healing of a person. A third example, The Sanctuary space at the BRI, is a multifaith area defined as a 'place of refuge'. Whether in times of joy or extreme stress, it is intended as a place of shelter and protection, 'where nature and the world of spirit meet.'
Discussion with the audience highlighted the various ways in which 'spirit' is conceived. For example, as life-force, soul and spiritual energy. Whether derived from sacred or secular contexts, people's views on 'spirit' are often deeply held, personal and associated with how we make sense of 'what is happening to us'.
Natalia Mesa's sources of inspiration included Barbara Hepworth's sculptures, which the artist considered to have something of the divine spirit. Hepworth's sculpture of the Madonna and child is a homage to a child who died and provides, perhaps, a way of exploring both suffering and the nature of the divine. Dr Mesa offered an understanding of 'spirit' as an aspect of human relations in their search for meaning and purpose and offered the thought that we are inextricably connected to each other by 'a power greater than all of us' and that our connection to that power and to each other is grounded in love.
Georgina Bolton focussed on the idea that public art can be understood as sacred experience. A key example she drew attention to was the work of American artist Theaster Gates, who staged his first UK public project in Bristol. Theaster Gates'concern is with "the capacity of artists to imagine new visions of the future for our environment and to sustain and enrich our lives". In 2015 his attention focused on a temporary structure which was installed within the shell of the 14th century Temple Church.With the aim of exploring how future spaces of contemplation might supersede the sanctuaries of the past, the building was transformed through redeploying disused objects and materials. Then the venue hosted a continuous dynamic programme of performance whereby musicians and performers came from across Bristol 'to sustain a performance of sound and spoken word continuously for 24 days, 24 hours a day.' The public had the opportunity to take part day and night in 'a gathering space for collaboration and new encounters'.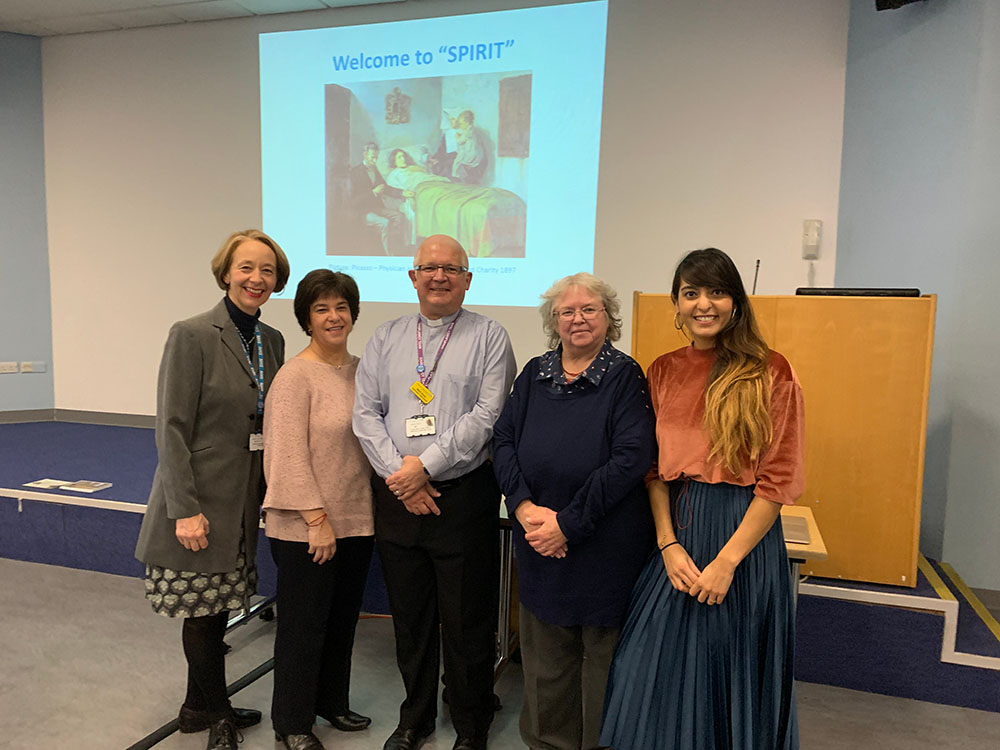 Photo credit: University Hospitals Bristol NHS Foundation Trust