Blog from Dr Harriet Crabtree, IFN's Executive Director
Harriet Crabtree is Executive Director at the Inter Faith Network for the UK. Here, she reflects on events she attended during the Week in London, Edinburgh, Derby and Devon, as well as on a new resource for primary schools launched during the Week.
Inter Faith Week is a programme of the Inter Faith Network for the UK (IFN). During Inter Faith Week 2019, members of the IFN's staff team, Trustee Board and Moderators of its Faith Communities Forum visited a range of activities across the country, and we will be posting blogs and reflections from some of them.
Harriet Crabtree is Executive Director at IFN. She visited activities in Hastings, Halifax, London, Wellingborough and York during Inter Faith Week. She writes:
"Sunday 10 November – The Week begins!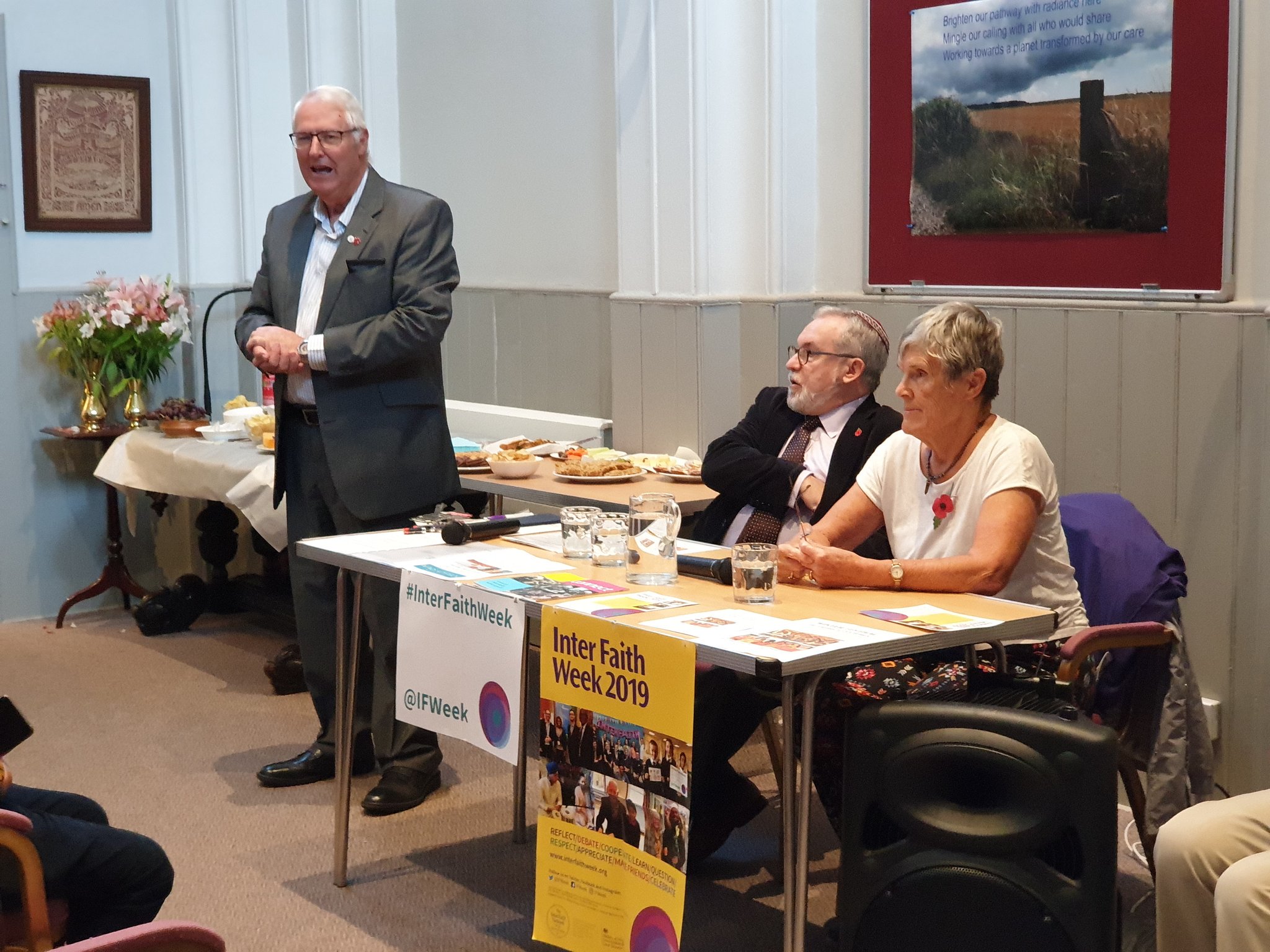 Hastings and District Interfaith Forum and Bexhill CCJ event
Inter Faith Week is timed to begin each year on Remembrance Sunday to encourage the remembering together of the service of men and women of different faiths and beliefs and also thinking about peace.
My first visit of the Week was to the Sussex Coast – to a Hastings and District Interfaith Forum and Bexhill CCJ event with a theme of Remembrance. The speaker was Rabbi Mark Solomon, part-time Rabbi of the Edinburgh Liberal Jewish Community and of the Leicester Progressive Jewish Community, Senior Lecturer at Leo Baeck College and a long term inter faith practitioner. He talked about and sang, with Lobo Chan, Jewish songs of remembrance. The event took place in the Unitarian church in Hastings: a small historic church building with an intimate atmosphere and wonderful acoustics which magnified the beauty of the singing.
I was invited to talk about Inter Faith Week and afterwards stayed for the AGM. It is always good to have the chance to join groups for their AGMs, when they look back across their year's work and plan for the coming year, as well as elect their new officers.
Monday – Day 2
Events for Inter Faith Week take place in many universities and colleges, arranged by Students' Unions, faith and belief societies and chaplaincies. They are a very important part of the Week – and of supporting the development of inter faith engagement on campus.
A very active inter faith programme goes on year-round at the LSE Faith Centre, whose Director is Chaplain and Senior Lecturer in Practice, Revd Canon Dr James Walters. On Monday, I found myself nearby just as students from different societies were about to hold a tea to open the wide-ranging programme of Inter Faith Week events at LSE. Programmes Manager Angharad Thain kindly allowed me to drop in and I had an inspiring time talking with several of the students and hearing about their activities. You can see a video of Angharad talking about the Week on the right.
Tuesday – Day 3
Tuesday afternoon was a train journey up to Halifax for Calderdale Interfaith's Inter Faith Week Annual Celebration, which was held this year at The Crossley Heath School. The theme was 'Growing Interfaith Cooperation and Understanding'. A great evening with a delicious meal on arrival and a chance to chat with both CI members and also parents whose children were taking part in the event.
The event, compered by Canon Hilary Barber, was opened and closed by the Mayor of Calderdale, Cllr Dot Foster, who is also Chair of Calderdale Interfaith. There was poetry; singing; talks on the importance of local inter faith work (my contribution) and of youth engagement, resilient communities, + Hinduism; Quranic recitation; and more. The young participants were particularly impressive.
Local faith leaders offered prayers towards the close and there were reflections from a Deputy Lieutenant of West Yorkshire, Chris Harris. The event was supported by Calderdale Council, with which the group has a strong working relationship, and whose officer Sail Suleman, has worked with Calderdale Interfaith across many years.
The event reflected strong faith/civic ties and a programme evolving to draw on, and meet the needs of, Calderdale's diverse communities.
Wednesday – Day 4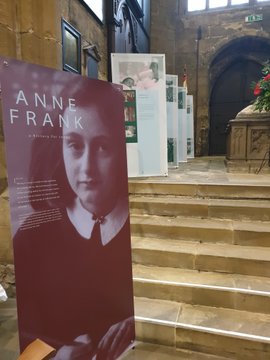 The Anne Frank exhibition at Halifax Minster
I stayed overnight in Halifax and the next morning, I took the chance for a meeting at Halifax Minster with Canon Barber to learn more about recent developments on the inter faith front within Calderdale, such as inter faith chaplaincy in nearby Todmorden.
Halifax Minster hosted two #Interfaithweek linked events: a #Remembrance service on Sunday and the launch of an #AnneFrank exhibition. I spent some while going round the exhibition - a profoundly moving reminder of the need to stand up to hate and oppression.
Thursday and Friday - Days 5 and 6
Thursday and Friday were spent in the office, dealing with general IFN matters and working on the social media side of the Week (with which I keep in touch throughout it) and on a primary school resource on inter faith activity, on the development of which, our Assistant Director, Dr David Hampshire has led. We launched the resource on Friday and have been very pleased by the many positive comments that have come in.
Saturday - Day 7
Open door days are a popular feature of Inter Faith Week. This year has seen openings by many places of worship.
I travelled to Wellingborough in Northamptonshire to experience part of its day long open door programme. I had a wonderful afternoon visiting, with Chair Shashikant Dholkia MBE, Secretary Cynthia Bailey and some other members of Wellingborough Interfaith, a number of the many places of worship that each opened in sequence for the public to come and learn about them. As well as the excellent tours, these visits were a chance for local faith group members to share experiences about their buildings – conversations about community engagement, education of their young people and very practical matters to do with the physical spaces (from lighting issues, to dealing with flooding and upgrading spaces to be more accessible and user friendly).
Here is the next in our series of short #InterFaithWeek video interviews????️, featuring Avnish Thakrar of WDHA Hindu Mandir, Wellingborough which was one of the places of worship taking part in 'Open Doors' yesterday, led by Wellingborough Inter Faith Group pic.twitter.com/fdWhCTBMSy

— Inter Faith Week (@IFWeek) November 17, 2019
The visit had many highlights; the eloquent presentations in the WDHA Wellingborough that gave both excellent detail about the Mandir's worship and beliefs of its members (you can see a short video of Avnish Thakrar on the right); the pride of Mill Road Baptist Church's caretaker in the building where he was baptised, married and now helps with welcoming, audio and other aspects of its life; the simplicity of the Quaker Meeting House and friendliness of its welcome and of the Baha'is and Buddhists who were also exhibiting materials there; and the warm hospitality of the Wellingborough Mosque - Islah Ul Muslimeen whose kindly guide, on discovering that I had missed lunch earlier in the day due to train problems, rang home and put me on the coach back to Bedford for the London train with a delicious sandwich assembled at speed by his family and picked up en route there from the mosque.
A fascinating and inspiring afternoon.
Sunday – Day 8
Inter Faith Week is an 8 day Week!
Sunday saw me back on the train north, this time to York whose inter faith group had invited me to speak at an event marking the close of their extensive Inter Faith Week programme and also their 30th Anniversary.
York Interfaith has consistently run ambitious and interesting Inter Faith Week programmes and it was a privilege to join them on their last event this year and to bring IFN congratulations on their 30th Anniversary. Chairman Daryoush Mazloum and fellow members past and present talked about their work and the Week (whose programme was overseen by Dee Boyle). It was very nice that there were also young people present – children of members who had been part of a youth event for the Week and were clearly enthused by that.
The event closed with cutting of a special Anniversary cake. A delicious end to the Week!
The morning after the Week!
Inter Faith Week is over. One by one my colleagues and I appear in the office – a bit bleary eyed from all the travelling but excited and inspired by all the events and by the people that we had been privileged to talk with on our travels and the places we have seen.
Thank you to all who hosted our visits – as well as visits from Inter Faith Network Trustees and Moderators of its Faith Communities Forum. Our visits spanned all four nations (including the launch of Scottish Interfaith Week in Perth) and nearly all regions of England (sadly, health prevented one visit to Birmingham on the final day).
The visits were to many different kinds of events, hosted by a wide range of different types of organisations – faith, interfaith and educational bodies, employer networks, sports organisations, colleges and universities, a hospital and a hospice, and more. These visits help IFN learn from the experiences of activity holders so that we can develop and strengthen Inter Faith Week so as to help it contribute event more strongly to the development of inter faith understanding and cooperation.
We also visited 'virtually' in that Ashley Beck (IFN's Inter Faith Development Officer) and I read through all the posts and tweets during the Week from those taking part. What an amazing Week!"