Chaplaincies
Inter Faith Week offers an excellent opportunity for chaplaincies to reach out, bring people together, and showcase the work that they do.
Chaplaincies attached to organisations like hospitals and hospices, the Police, and the Armed Forces often work closely with the institution they support to help them run their Inter Faith Week events. Such chaplaincies may therefore find it helpful to look at the ideas list for the type of organisation they work with to find tailored activity suggestions. However, below are some ideas for Inter Faith Week that chaplaincies of any kind can take the lead on. These draw on successful activities held by various chaplaincies in recent times. Most can be adapted, if needed, to be fully or partly virtual.
An inter faith week video about West Suffolk NHS Foundation Trust Chaplaincy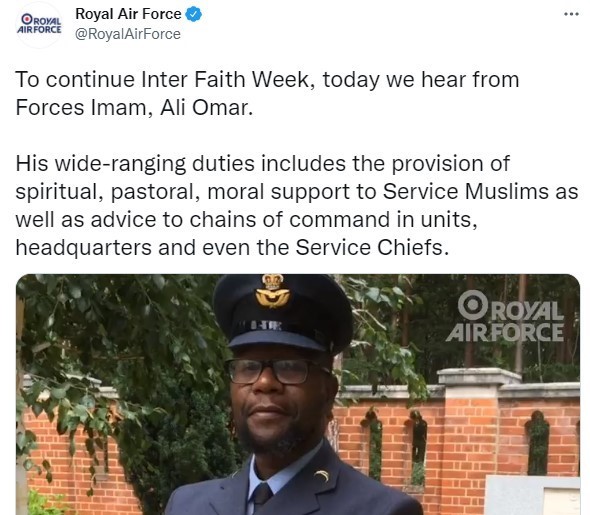 Tweet from a series by the Royal Air Force showcasing their chaplains, 2020
Hold an Inter Faith Week event or service where staff from your chaplaincy team, your institution, and volunteers contribute through readings and music from a variety of faith traditions
Arrange a "faith fair" in your chaplaincy with representatives of different religions and beliefs having "stalls" which staff can visit to learn more about their beliefs
Create an exhibition about different faiths and beliefs to display in your chaplaincy
Give staff an opportunity to share an aspect of their faith or belief that is important to them, perhaps using a story or object to help, at a discussion group
Create and fly an Inter Faith Week flag based on the downloadable logo
Write an Inter Faith Week piece for your organisation's newsletter or bulletin about how your chaplaincy works to support staff of all faiths and beliefs
Produce a series of posts for your social media to introduce the members of your chaplaincy team and explore what "inter faith" means to them
If you hold an activity, please do take a few minutes to register it on the IFW website. If you register you will also be eligible for a free pack with Inter Faith Week stickers, a poster, flyers, and a blank message card on which to share an Inter Faith Week message!
Published 8 August 2022