Higher and Further Education Chaplaincies
Chaplaincies attached to educational institutions are ideally placed to bring together students and faith groups for Inter Faith Week activities
Below are some ideas for Inter Faith Week. These draw on successful activities held by the chaplaincies of universities and colleges in recent times. Most can be adapted, if needed, to be fully or partly virtual.
You may also wish to look at the activity ideas page for Student Unions and Faith Societies.
← Back to main chaplaincies page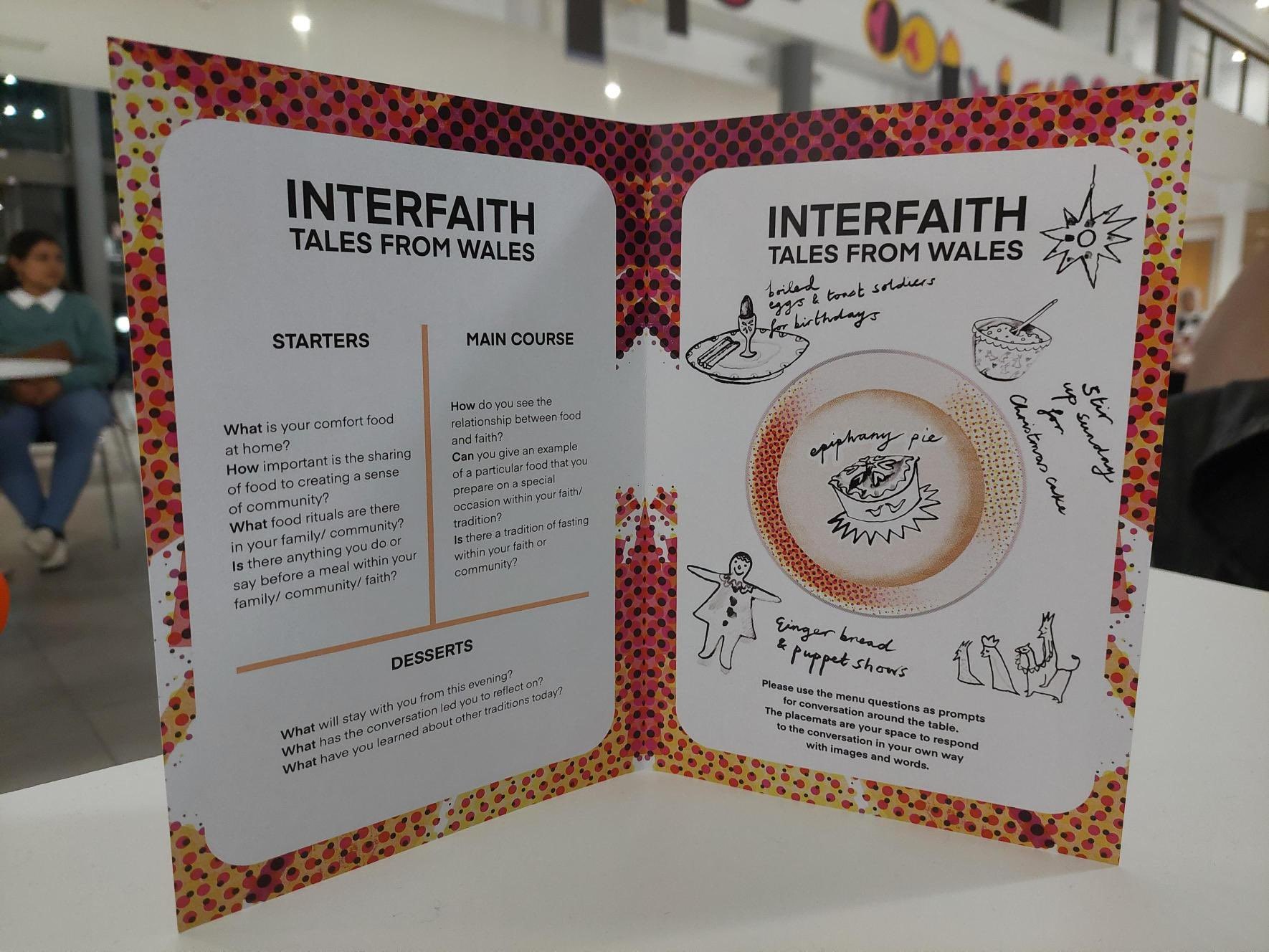 Cardiff Met. University 'Food for thought' menus, 2022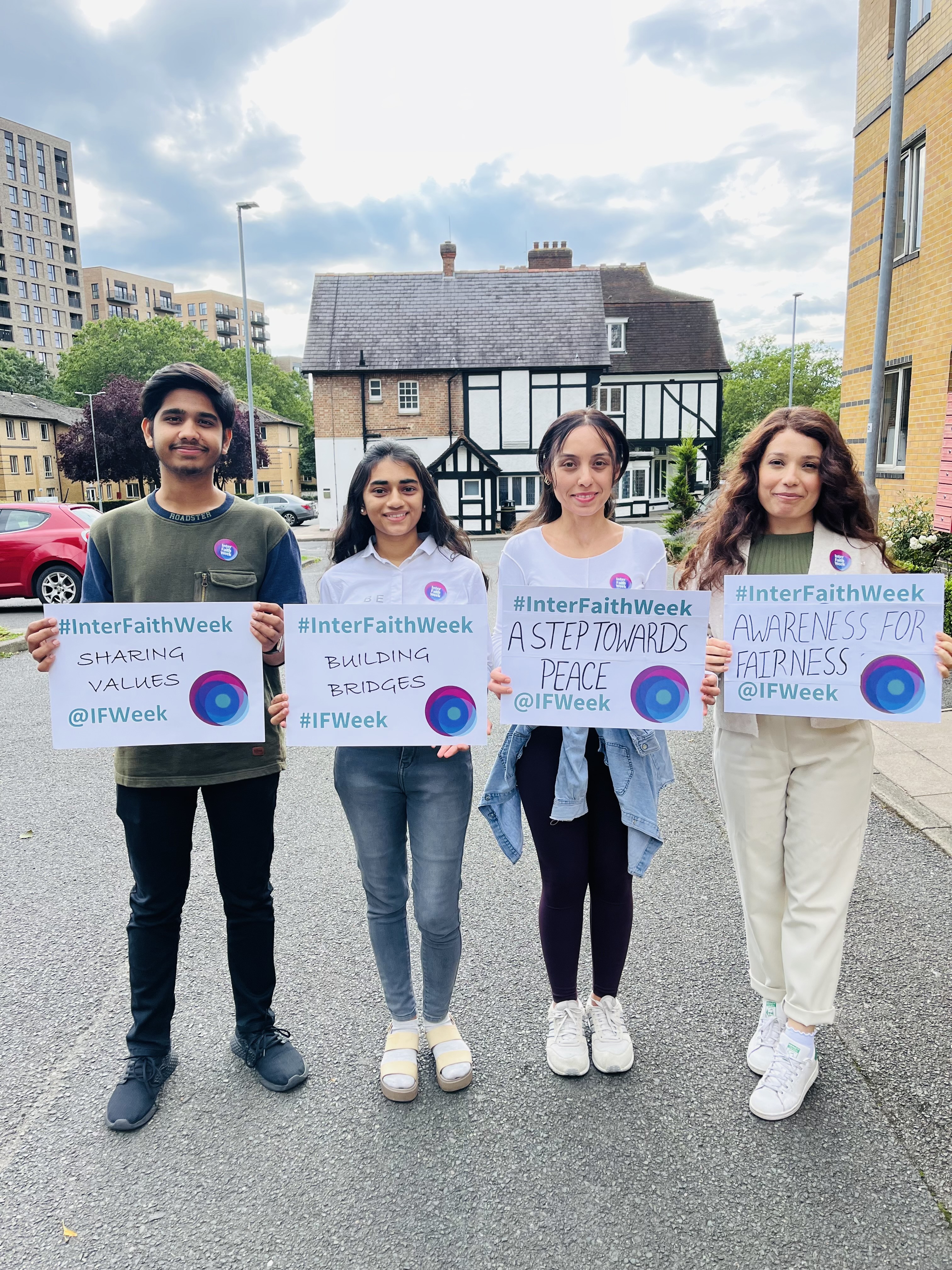 Middlesex University students sharing Inter Faith Week messages, 2023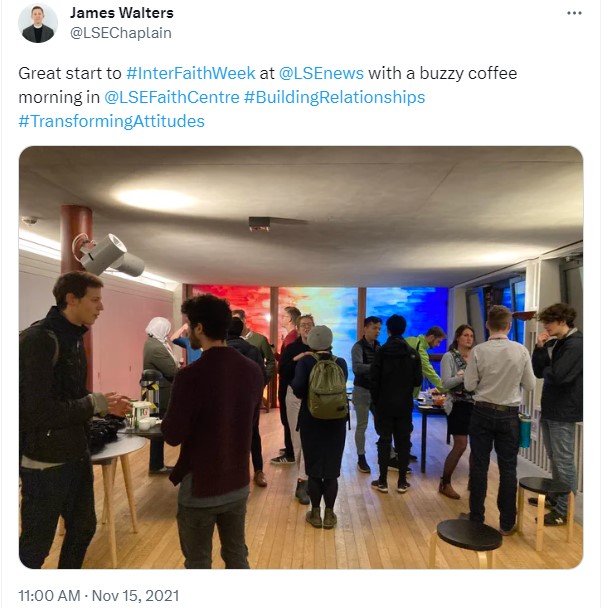 LSE Inter Faith Week coffee morning, 2021
Encourage and support student faith and belief societies and the Students' Union getting involved in Inter Faith Week
Arrange a discussion or seminar about the importance of good inter faith relations on campus
Hold an Inter Faith Week event or service with relevant readings and music from a variety of traditions
Create a physical or online exhibition about different faiths and beliefs – perhaps in association with student faith and belief societies and/or your local inter faith organisation (you can find groups listed at https://www.interfaith.org.uk/involved/groups)
Invite members of local faith communities and belief groups to meet with the chaplaincy team and hear a short presentation about its work and opportunities for them to engage with staff and students in your institution
Set up a 'Living Library' event where students and staff can borrow a 'human library book' for half an hour to learn about the person's faith or belief
Contact 3 or 4 places of worship of different faiths in your area and ask if they will provide short guided tours for small groups of staff and students during the Week, or ask representatives from faith or belief groups without a 'place of worship' or equivalent to speak to staff and students about their practices
Invite members of your local inter faith organisation and/or members of local faith communities or belief groups to give presentations on how they respond to social needs such as homelessness and food poverty – both individually and working together
Participate in an Inter Faith Week event that is already happening in the local community or provide a space for an inter faith event to take place
Create an art installation or a prayer tree with quotes and images relating to faith and belief traditions' views on the importance of sustainability and caring for the planet
Hold an Inter Faith Week quiz with thematic rounds on topics such as 'festivals', 'food', and 'places of worship'
Arrange a Remembrance Sunday service or other activity with an Inter Faith Week dimension
Hold an event such as a lunch which brings together different faith and belief societies and groups – you could even invite representatives from faith communities in your area or from your local inter faith group
Arrange an inter faith discussion or panel on issues of particular current interest and concern, such as how to tackle climate change, hate crime, racial injustice, or domestic violence
For Inter Faith Week and Mitzvah Day, arrange a inter faith volunteering session or charity drive – for example collecting provisions for a local food bank or items needed by refugees and asylum seekers
Write an Inter Faith Week piece for your university newspaper or newsletter, or ask to contribute to a local or student radio show, talking about the importance of multi faith provision at your organisation and how your chaplaincy works to support staff of all faiths and beliefs
If you hold an activity, please do take a few minutes to register it on the IFW website. If you register you will also be eligible for a free pack with Inter Faith Week stickers, a poster, flyers, and a blank message card on which to share an Inter Faith Week message!
Published 8 August 2022