Press Release - Inter Faith Week 2019 - A growing success!
Inter Faith Week 2019 - A growing success!
19 November 2019
Across the Week, 650+ activities are known to have taken place across England, Northern Ireland and Wales – and details of further events continue to come in. Many thousands of people of different backgrounds and all ages have taken part.
The Co-Chairs of the Inter Faith Network, Jatinder Singh Birdi and Bishop Jonathan Clark said:
"This has been a fantastic Week. It has showcased the contribution faith communities make to society, helped increase inter faith understanding and sparked new conversations. We have been delighted to see so many local initiatives and also many organisations getting involved for the first time.

At this time so often characterised by division, it has been very good to witness people coming together in such a positive way. There are key values that we share and Inter Faith Week provides a chance to envision ways that we can all draw on them to strengthen our common life and to work together to address such issues as climate change, homelessness, and hate crime".
Churches, gurdwaras, mandirs, mosques, synagogues, temples, viharas, schools, colleges and universities, sports grounds, parks, council chambers, museums, galleries, libraries, community centres, hospitals, hospices, workplaces and online platforms have been the location of an amazing range of activities. These included celebrations; faith trails; cultural activities; dialogues; volunteering to help local communities; Remembrance events; conferences and talks; tree plantings and litter picks; classroom activities; theatre productions; poetry readings; food festivals; sports tournaments; events linked to both the Week and Mitzvah Day (17 November) and more. The environment and the climate crisis have featured strongly. Details of events can be seen at www.interfaithweek.org/map
Wales saw a special event arranged by the Inter-faith Council for Wales with the support of the Welsh Government, beginning with a candlelit walk through Cardiff, and including a speech from Deputy Minster Jane Hutt AM. The Northern Ireland Inter-Faith Forum and the Belfast Branch of the Council of Christians and Jews jointly hosted multi faith a discussion on 'Religious perspectives on Culture, Community and Censorship'.
Respect and friendship are at the heart of Inter Faith Week. Inter Faith Week coincided this year with Anti-Bullying Week. For Friendship Friday – on the eve of the Week – the Inter Faith Network was invited by anti-bullying charity Kidscape to provide a guest blog with pointers for parents and carers of primary school children about the importance of faith and belief, and respectful engagement in primary school contexts.

Launch of materials for primary schools
In the course of Inter Faith Week the Inter Faith Network launched a new primary school resource designed to help increase pupils' understanding of, and skills for, inter faith encounter, dialogue and action. It focuses on learning about real examples of inter faith engagement, including in their areas. It is aimed at ages 9-11 and is available free of charge at https://www.interfaith.org.uk/resources/learning-about-inter-faith-activity-a-primary-resource

Scottish Interfaith Week
Scottish Interfaith Week also took place between 10-17 November, and its theme this year was 'Eat Share Love'. Further information about the many activities that took place to mark it can be found at www.scottishinterfaithweek.org or by contacting Interfaith Scotland, which leads on the Week.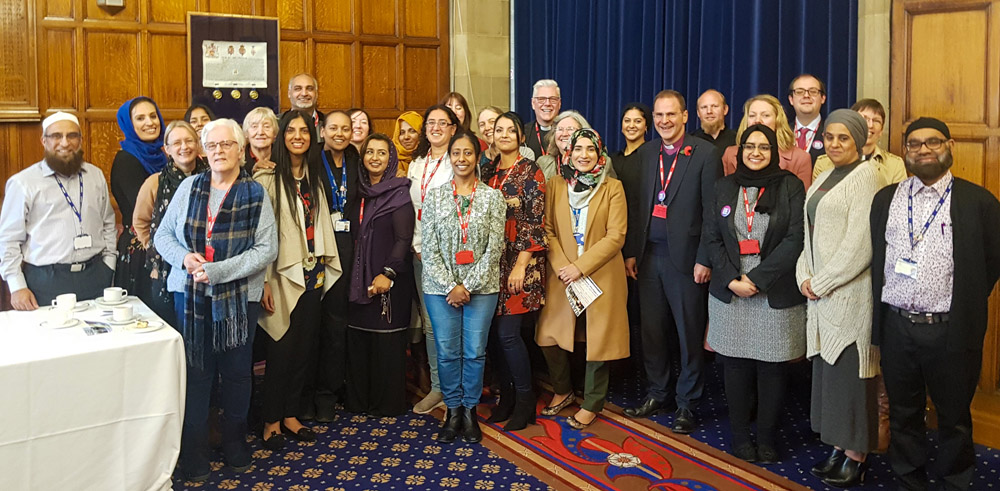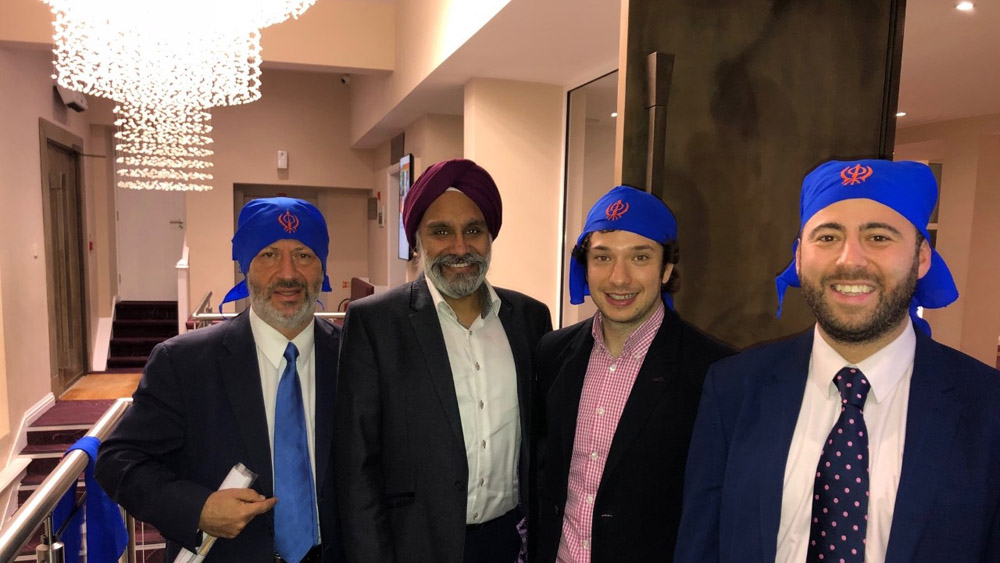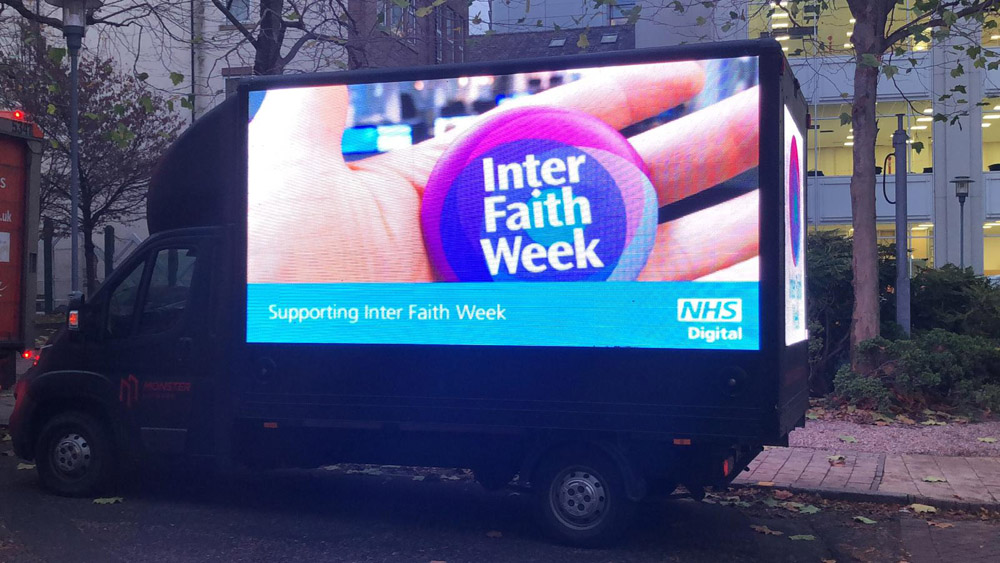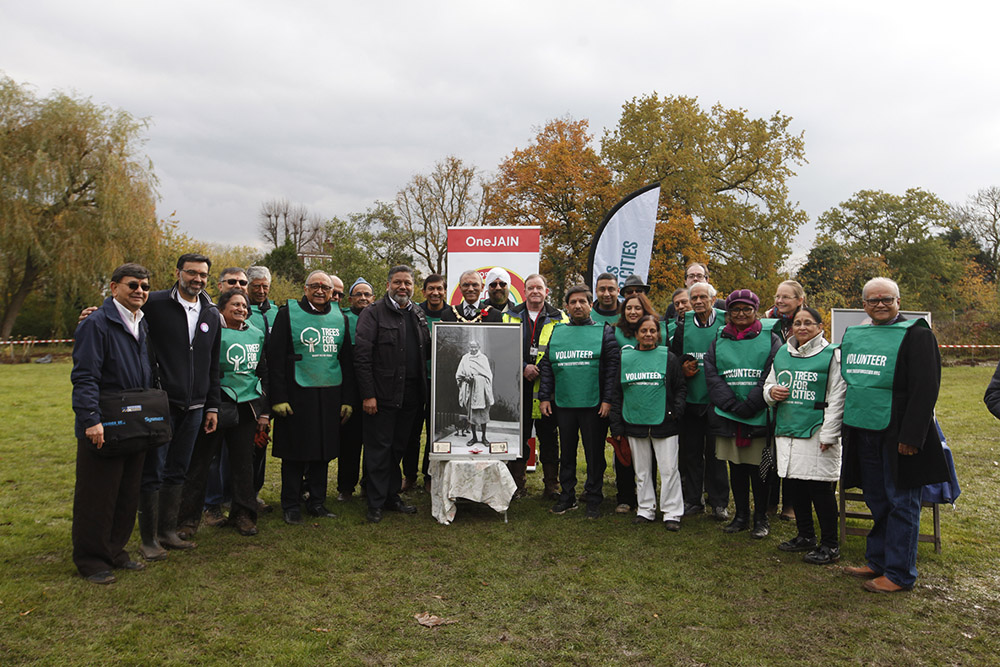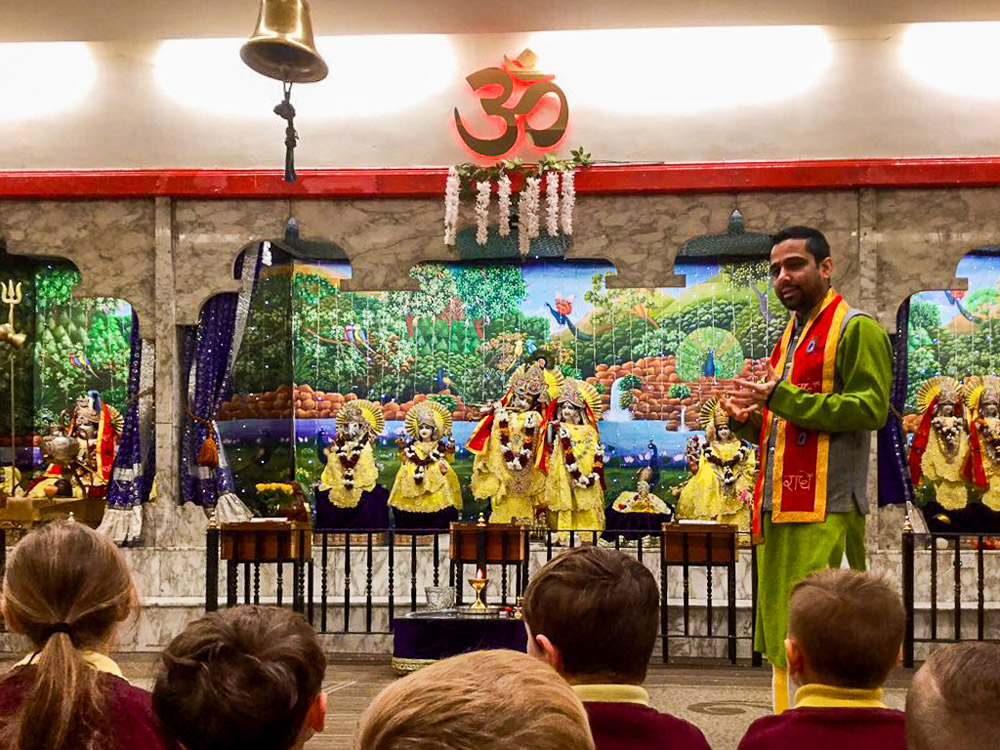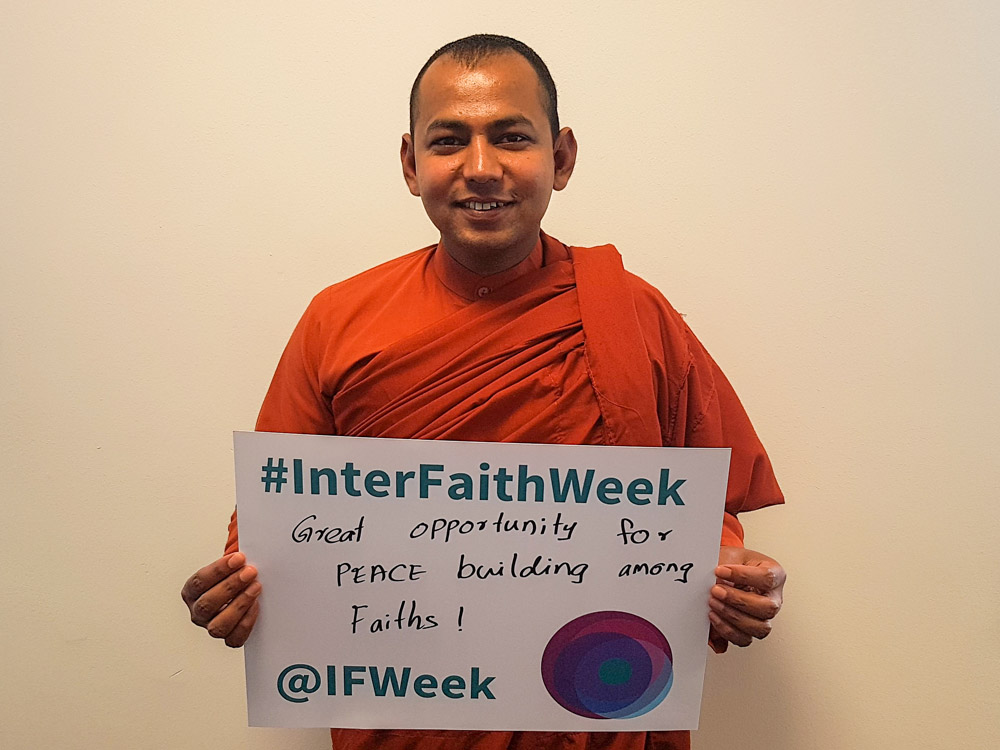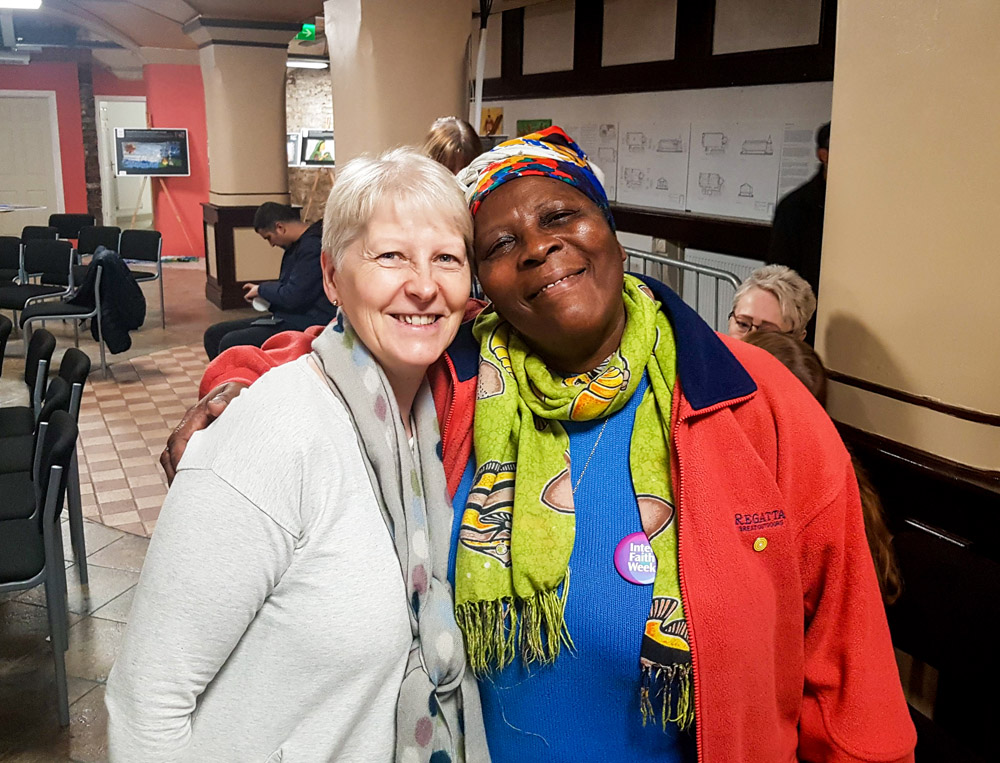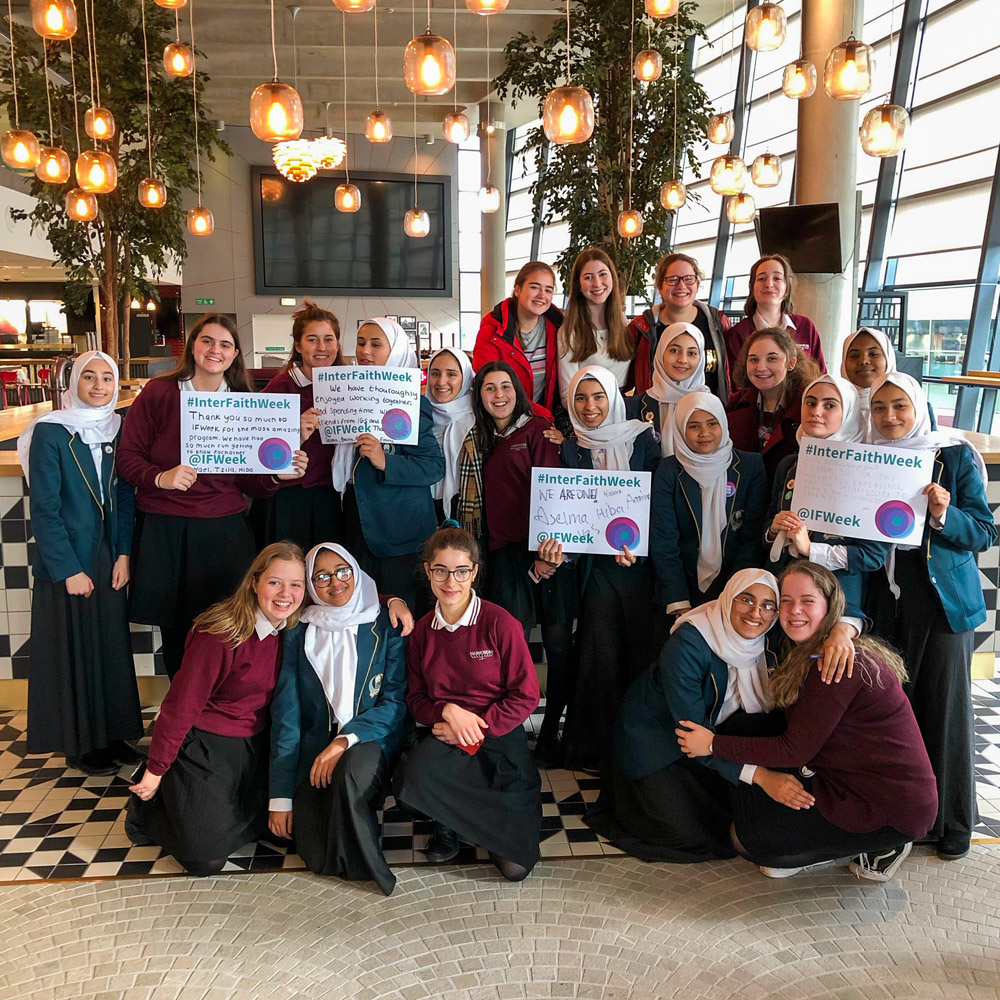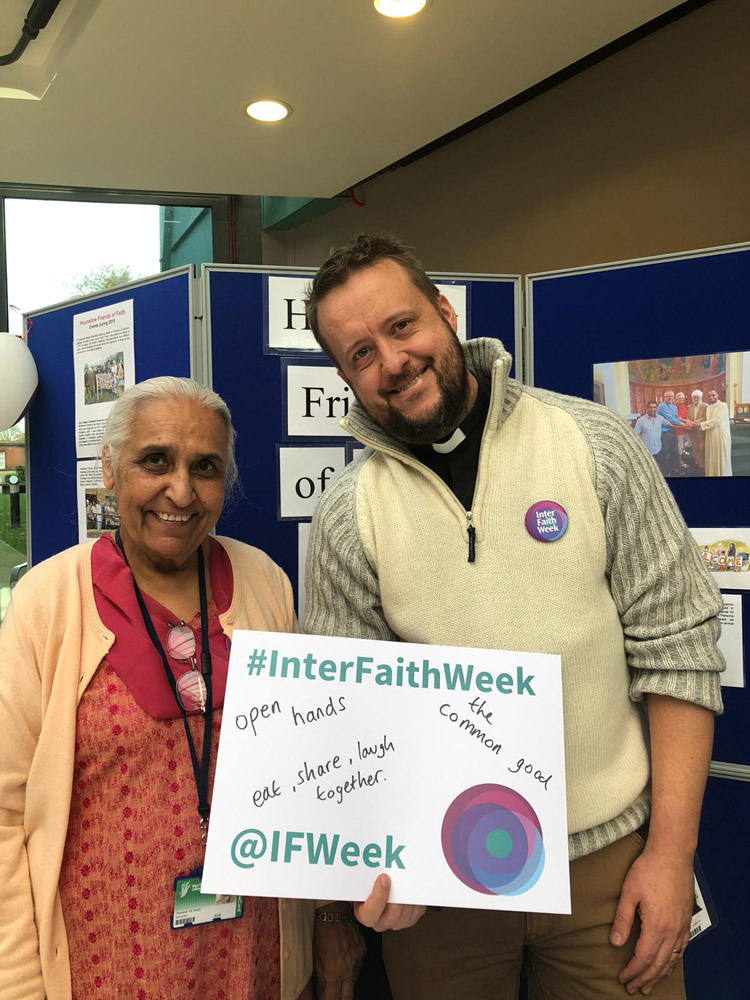 Photos (top to bottom, left to right):
Participants in 'Women of Faith' event held by Believing in Bradford and Bradford Council, including Bishop of Bradford, the Rt Revd Toby Howarth
Delegation from the Board of Deputies of British Jews, led by VP Mr Edwin Shuker, visiting the Khalsa Jatha Central Gurdwara, London
Digital display van arranged by NHS Digital as part of a week long programme of activities in Leeds.
Guests at the Creation of an Ahimsa Peace Forest in Harrow, including the Deputy High Commissioner of India in UK, Mr Charanjeet Singh and the Worshipful the Mayor of Harrow, Councillor Nitin Parekh. Event organised jointly by OneJain, Shrimad Rajchandra Mission Dharampur, Harrow Interfaith, Harrow Council and Trees for Cities, and commemorated the 150th Birth Anniversary of Mahatma Gandhi as well as marking Inter Faith Week
Pupils from St Anne's Roman Catholic Primary School in Sunderland visiting Newcastle Hindu Temple
Venerable Kalugamuwe Kassapa of the Sri Lankan Sangha Sabha of GB sharing an Inter Faith Week message
Inter Faith Week celebration event in Blackburn, organised by Near Neighbours and the Lancashire Forum of Faiths - Ms Lynne Mitchell, Near Neighbours Co-ordinator for East Lancashire with Emily Odudo.
Arsenal in the Community Inter Faith Week activity - pupils from Hasmonean Girls' School and Islamia Girls' School.
Day of Inter Faith Week activities at West Thames College - Mrs Charanjit Ajit Singh and the Revd David Maclure of Hounslow Friends of Faith who were present
Notes
A taster list of Inter Faith Week activities can be found here https://www.interfaithweek.org/uploads/A_TASTER_OF_EVENTS_BEING_HELD_FOR_INTER_FAITH_WEEK.pdf. The full list of activities can be found at www.interfaithweek.org/list and will continue to be updated as event details become available.
The blog produced for Friendship Friday can be found at https://www.interfaithweek.org/news/inter-faith-week-and-friendship-friday
The new resource for primary schools can be found at https://www.interfaith.org.uk/resources/learning-about-inter-faith-activity-a-primary-resource
A note on Inter Faith Week, Remembrance Sunday and the importance of multi-faith remembrance can be found at https://www.interfaithweek.org/resources/remembrance
On 12 November the 550th Anniversary of Guru Nanak Dev ji was marked by Sikhs. A number of special events for that also celebrated Inter Faith Week. The Week was also close to Diwali and a number of other festivals and this was also reflected in some events.
Further and higher resolution photographs are available on request. Photographs from many events can also be found by searching for '#InterFaithWeek' on Facebook, Instagram and particularly on Twitter. The main Inter Faith Week account on Twitter produced daily round-up 'moments' of photo tweets, which can be found at https://twitter.com/IFWeek/moments (you will need to login to view these)
Interviews available. Contact the IFN office which can also assist media with enquiries about the Week: 020 7730 0410 and IFN's Inter Faith Development Officer Ashley Beck ashley.beck@interfaith.org.uk or 07739 406 546 out of office hours.
More information at: www.interfaithweek.org.
Social media accounts: www.twitter.com/IFWeek; www.facebook.com/ifweek and www.instagram.com/IFWeek Hashtag is #Interfaithweek
Inter Faith Week is a programme of the Inter Faith Network for the UK (IFN), a charity which has been working since 1987 to promote inter faith understanding and cooperation in the UK. The work of IFN is supported by faith communities, the Ministry of Housing, Communities and Local Government, Trusts and other donors.
IFN works in consultation with the Northern Ireland Inter-Faith Forum and the Inter-faith Council for Wales/ Cyngor Rhyngffydd Cymru in relation to the Week in those nations.
A number of youth events were supported through the Inter Faith Week grants programme of the Interfaith Youth Trust. A range of activities in England were supported through the Near Neighbours programme of the Church Urban Fund, including through its Government supported small grants scheme.
Inter Faith Week was established in England and Wales in 2009, and in Northern Ireland in 2010. Scottish Interfaith Week has taken place since 2004.
Scottish Interfaithweek is led by Interfaith Scotland. (www.interfaithscotland.org). It has its own dedicated website at www.scottishinterfaithweek.org. The dates of the Week are the same as for those of Inter Faith Week.
The final Sunday of Inter Faith Week is also Mitzvah Day, a Jewish-led day of social action involving people of all faiths and none working together in their local communities (https://mitzvahday.org.uk/). Each year, many 'Inter Faith Mitzvah Day' activities take place to jointly mark Inter Faith Week and Mitzvah Day.