Young people and Youth Groups
Inter Faith Week is a fantastic platform for those wanting to highlight diversity, inclusion, equality and respectful engagement and is for those of non-religious as well as religious beliefs.

Inter Faith Week is a fantastic opportunity for youth organisations and their members to:
highlight your organisation's own commitment to diversity and inclusion
develop and deepen positive relations between young people of different backgrounds
if you are a faith-based organisation, highlight how your faith inspires service to the wider community
encourage learning about what people of different backgrounds believe and how they put their faith and beliefs into practice to serve others
build personal knowledge and skills for being a leader in civic society – now and in the future - as well as for being a professional in a diverse world
Some ideas for Inter Faith Week events and projects at this socially distanced time:
Arrange an inter faith project with socially distanced volunteering to help people in your local community
Run an Inter Faith Week Buddies scheme
Visit two or more different local places of worship (by prior arrangement) or have a watch party to share an online visit to a place of worship (there are a number of these available). Or ask a local place of worship to let you come and film a guide taking you on a tour and then show your own video
Hold an online art, music or poetry competition with an Inter Faith Week theme
Create an exhibition – online and/or physical – about different faiths and beliefs
Explore what part faith or belief has played in the lives of some of the key people in the history of your organisation – and its activity today.
Hold a virtual or in-person discussion where young people share perspectives on a particular issue such as climate change
Hold an online quiz with thematic rounds on topics such as 'festivals', 'food', 'places of worship'
Host a 'Speed-Faithing' event using Zoom break out rooms
Choose a movie with a religion/belief dimension and host a watch party and conversation afterwards
The Week is timed to begin on Remembrance Sunday each year – consider exploring the faith and belief backgrounds of those who served in WWI and WW2 from the countries that today make up the Commonwealth
Resources
---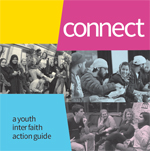 Connect: A youth inter faith action guide was published by the Inter Faith Network for the UK, which leads on Inter Faith Week, in 2018. The guide is packed with ideas for inter faith acitivities, information about how to plan, run and evaluate these, examples of the wide variety of creative and engaging ways that groups are already building good inter faith relations, and links to other sources of useful information. Many of the planning tips and information about dialogue activities will still be relevant for online activities this year.
Published 8 August 2022