Young people
Resources for young people are included on this page.
Event and activity ideas for young people can also be found in The Inter Faith Week Toolkit
Connect: a youth inter faith action guide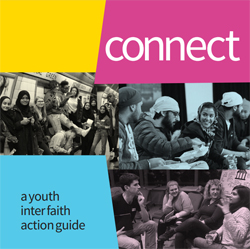 In 2018, the Inter Faith Network for the UK, which leads Inter Faith Week, produced Connect: a youth inter faith action guide. The guide is packed with ideas for inter faith acitivities, information about how to plan, run and evaluate these, examples of the wide variety of creative and engaging ways that groups are already building good inter faith relations, and links to other sources of useful information. The guide can be downloaded from the bottom of this page.
Resources for schools, colleges and universities
In addition to the Connect guide, this website also includes separate resource pages for:
IFN E-Resource: Young People and Inter Faith Engagement
This resource was produced by IFN and is based on display boards produced for Inter Faith Week 2010 to highlight the excellent work being done with young people. It includes numerous photographic examples. It is hoped that the resource will be both a source of information and a visual teaching aid. This resource is designed to compliment the Connect: Different Faiths, Shared Values guide by providing updated information on the areas of inter faith activity that young people get involved in around the country. It reflects the changes and developments in this field since the publication of the guide in 2004. Copies can be downloaded below.
---
---
Published 6 November 2016