Schools
​The Week is a great opportunity for pupils to explore inter faith issues and for schools to build relationships with faith, belief and inter faith groups in their community
The following include ideas for in-person classroom and whole-school activities as well as ones with a virtual dimension, for example with outside speakers joining online.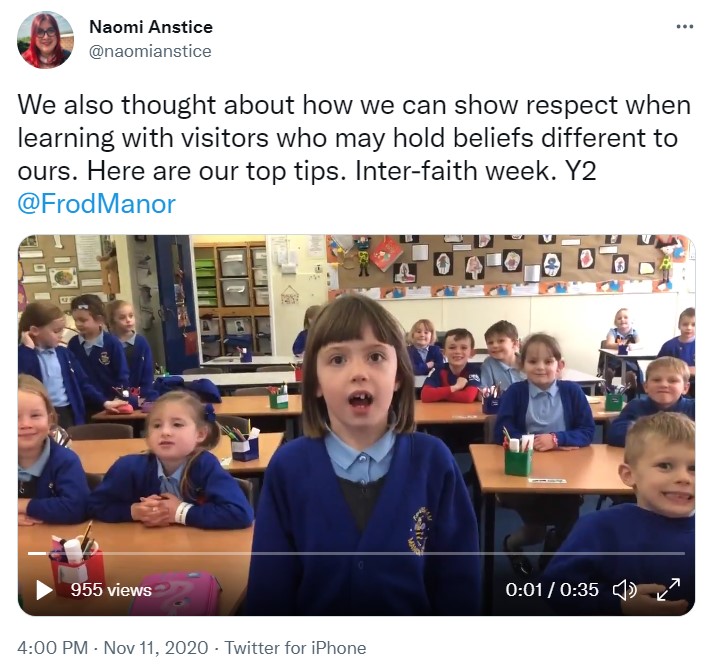 Video on welcoming people of all faiths by pupils at Frodsham Manor House, 2020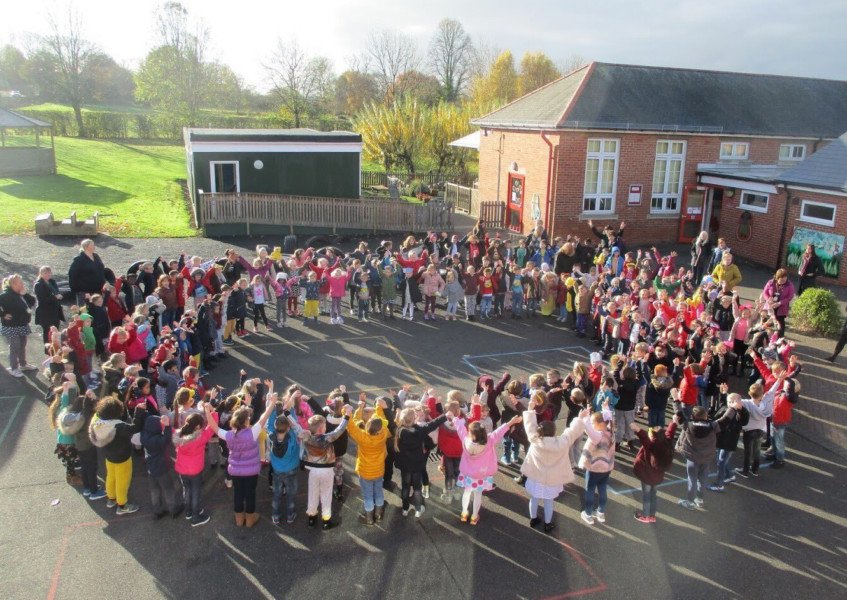 Little Gonerby Infant School holding hands for whole-school peace photo, 2017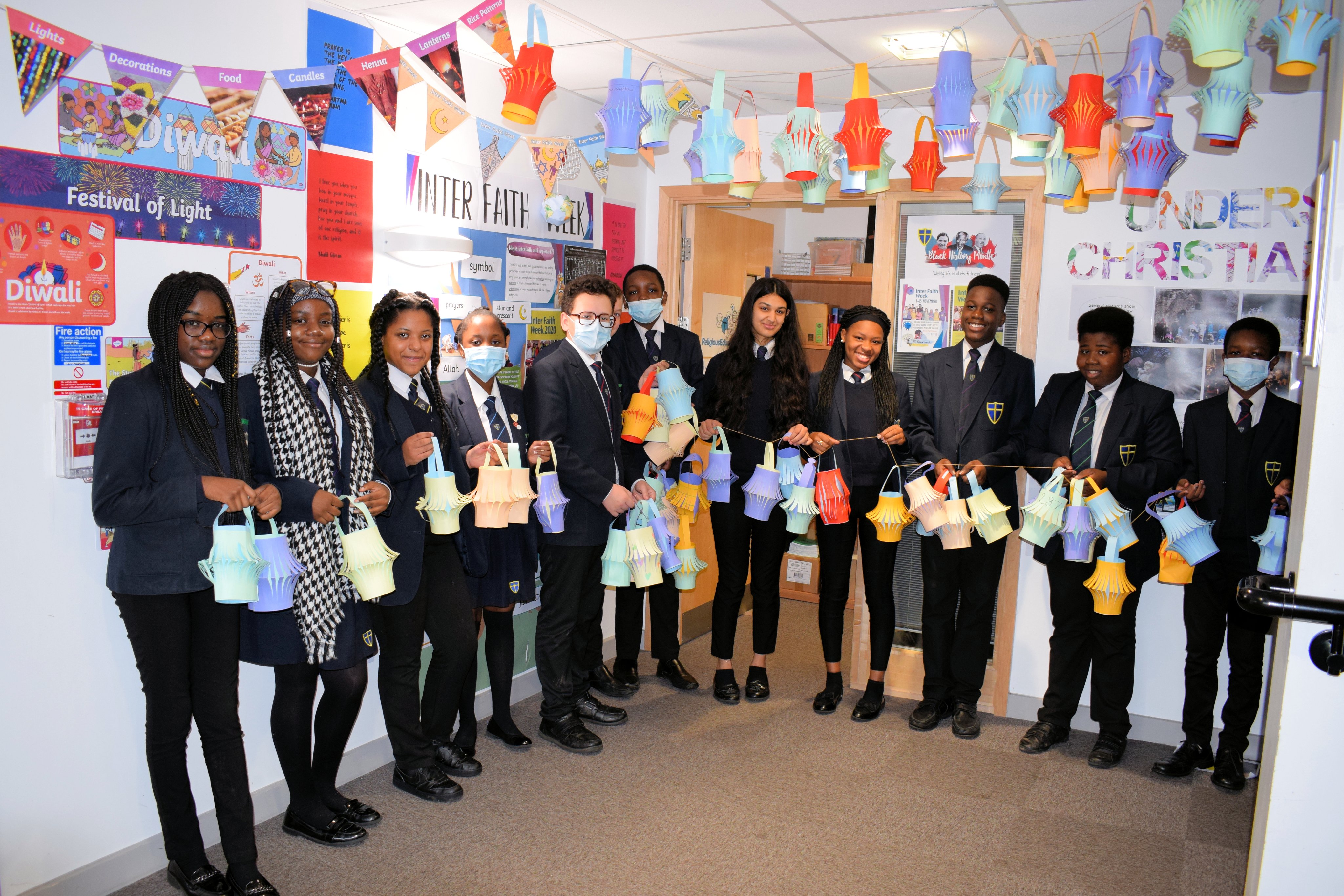 Students from Blue Coat School learning about Diwali and Bandi Chorr Divas, 2020
Classroom learning about topics such as:

different faiths' understandings of service and helping others, or another topic such as the environment
how people of different faiths and beliefs can live well together with respect (see below for useful resources)

Hold a 'Question Time' activity with local faith leaders, perhaps in partnership with your local inter faith group and SACRE
Create an Inter Faith Week artwork such as a collage on a particular Inter Faith Week related-theme
Make a multi-faith calendar for display in the school and on your website
Create an exhibition with information and objects from a range of religions and beliefs, perhaps reflecting the pattern of faith and belief diversity in your local community
Set up a lunch time dialogue about a relevant topic, or a show-and-tell session
Arrange a visit to local places of worship to explore the importance of faith in the lives of believers in your community
Hold an Inter Faith Week art or poetry competition
Hold a parent-teacher 'faith quiz' one evening – perhaps in collaboration with local faith communities or a local inter faith group
Arrange a themed week in the school cafeteria, with each day featuring foods associated with different faiths and cultures
Hold an activity to mark both Inter Faith Week and Mitzvah Day, such as pupils bringing items for a local foodbank or writing letters to care home residents
If you are a school of a religious character, link up with a school with pupils from a different faith background for a learning or a sports activity
Create a video or series of short videos where pupils share their Inter Faith Week activities and learning, and share this via social media
If you hold an activity, please do take a few minutes to register it on the IFW website: you can mark it as 'closed' and just for your school, but it helps inspire others. If you register you will also be eligible for a free pack with Inter Faith Week stickers, a poster, flyers, and a blank message card on which your pupils can share an Inter Faith Week message!
If you have specific questions or ideas you'd like to discuss, please email IFN's Assistant Director at david.hampshire@interfaith.org.uk.
Resources

The Inter Faith Network for the UK (IFN), which leads on Inter Faith Week, has produced free resources for Primary schools (ages 9-11) and Secondary schools (ages 11-14) that are specifically about inter faith activity in the UK. These are designed for use at any time of the year, but are well suited to use as part of Inter Faith Week. Both are also available on the TES website free of charge. The Primary resource was published in 2019 and the Secondary resource in 2021.
A poster showing examples of 'the Golden Rule' from different faith traditions can also be downloaded from the IFN website.
Inter Faith Week activities for Primary Schools This material was first produced by NATRE in 2009 and was updated in 2018. It includes both whole school and classroom RE activities. This resource is also available from the TES website.

Inter Faith Week activities for Secondary Schools This material was first produced by NATRE in 2009 and was updated in 2018. It includes both whole school and classroom RE activities. This resource is also available from the TES website.
IFN's publication Connect: a youth inter faith action guide also contains relevant information, particularly for pupils at Key Stage 4 and 5 ages.
Further support may also be available locally through your RE Adviser, Lead/AST RE teachers or local SACRE. The resources below can be used to organise activities during Inter Faith Week itself, or throughout the year to support your schools' work to promote good inter faith relations within your community.
Published 19 August 2021