Non-Religious Belief Groups
One of the aims of Inter Faith Week is increasing dialogue between religious and non-religious groups, and people from both religious and non-religious backgrounds are warmly welcomed to take part.
For some of non-religious beliefs the term 'inter faith' can be off-putting; however, it is used inclusively in this context. A number of non-religious groups have taken part since the Week began and there has been dialogue, including through an Inter Faith Network and Humanists UK event during the first Inter Faith Week.
Ideas for non-religious belief groups could include:
Arranging an online or in person discussion with a particular faith group or a debate on a particular topic of mutual interest
Opening your meeting place or space for visitors, or offering a virtual tour
Welcoming people from other belief backgrounds to your meetings and events during the Week, including online events
Responding positively to any requests from speakers for Inter Faith Week events
Starting to plan for, or launching a new dialogue initiative
Participating in the kind of projects highlighted under the sections for national and local faith communities, local inter faith groups, and others
These are just a few ideas drawn from participation in the Week and consultation with Humanists UK's Dialogue Officer.
---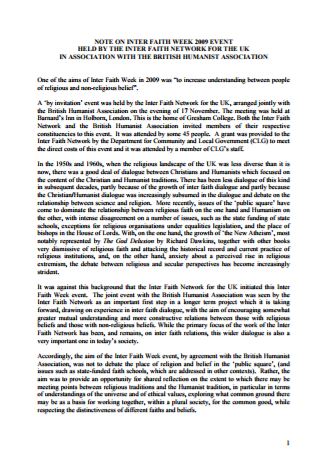 Note on an Inter Faith Week 2009 event held by the Inter Faith Network for the UK in association with the British Humanist Association (now Humanism UK).
Published 8 August 2022