Evaluating impact and learning for the future
A printable sheet with tips, checklists and questions to ask when evaluating the impact of your Inter Faith Week activity, to help you learn and plan for the future.
The material on this sheet is taken from the Inter Faith Week Toolkit, but reformatted to be home printable on 2 sides of A4. There are also sheets for getting support and publicity for your event, and a sheet of checklists to help you plan before, during and after your activity.
---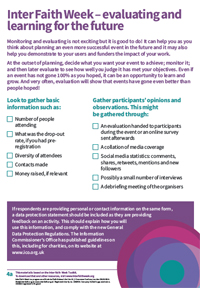 Click here to download the printable PDF
Published October 2022